After the criticism leveled at the initial design, the Flowing Hair Cent was redesigned with new details on the obverse and a completely different reverse.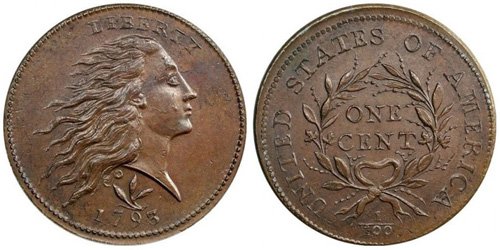 The total mintage for the 1793 Wreath Cent (Buy on eBay) was 63,353, or almost double the production of the 1793 Chain Cent. While the wreath reverse is more available, it can often be difficult to find pieces with nice surfaces and pleasing color. There are a number of mint state examples available, including one piece graded a remarkable PCGS MS-69 Brown, which sold for $558,125 in 2013.
A famous variety for the issue is the "Strawberry Leaf" obverse. It is quickly identified by the leaves on the obverse, which are distinctively different from the leaves found on the other dies of this type. Identified as strawberry leaves, the reason for their existence is unknown, and perhaps indicate some private creativity from the engraver. Whatever the case, the obverse die was quickly retired, creating an extremely rare variety. Only four examples are known, all in well-worn condition, making this one of the keys to a variety set of early large cents.