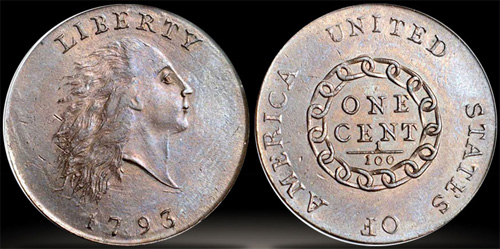 The 1793 Chain Cent was struck during the first year of regular production at the United States Mint in Philadelphia. Although the design was harshly criticized during the time of original release, it has become a very scarce and popular issue with collectors and represents the first cent ever struck for circulation.
The design for the coin is credited to Henry Voigt, who was the chief coiner at the Mint. The obverse carries a depiction of Liberty with her hair flowing backwards, while the reverse carries a chain with fifteen links, representing the fifteen states in the Union at the time. Contemporary newspapers criticized the depiction of Liberty as appearing frightened and having unkempt hair. The reverse design was perceived by some as representing the tyranny of British rule or slavery. Most now consider the short lived designs to be simple yet enduring representations of Liberty and the early United States.
All Chain Cents were struck from late February to mid-March of 1793. During this brief period, there were a total of eight different deliveries of cents, comprising a mintage of 36,013 pieces. Many of these have been lost or destroyed over the years, making the popular issue very scarce.
There are five varieties for the issue. One of these (Sheldon's NC-1, Breen's variety #5) is virtually impossible to acquire with only four examples presently known.
A famous blundered reverse die represents the most famous of the 1793 Chain Cent varieties. An engraving error, presumably by Voigt, was created when he realized that he had spaced the words of the inscription unevenly, not leaving enough space for the word AMERICA. As such, he engraved AMERI. to make up for the lost space. It is estimated that 250-300 examples of the 1793 Chain Cent with AMERI. in legend remain in all grades, with the majority well worn, damaged, or corroded. Any coin of this variety that grades higher than VG is a rarity, although a few high grade About Uncirculated and even uncirculated examples are known to exist.